Contact us
Telephone 020 7831 7079 Monday to Friday between 10am and 1pm.
Fax 020 7831 5431
DX 35700 Bloomsbury
Or write to us at the address below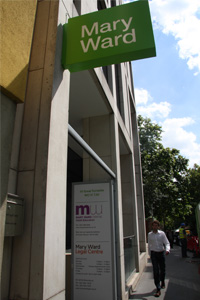 How to find us
Our address is:
10 Great Turnstile,
London,
WC1V 7JU
Great Turnstile is a narrow path off High Holborn, about half way between Holborn underground station and Chancery Lane underground station. We are in between 280 High Holborn and Penderel's Oak Wetherspoon's Pub.
Map of the area.
Transport Links
Our nearest tube stations are Holborn and Chancery Lane.
Busses which stop within 5 minutes walk are: 1, 8, 19, 25, 55, 59, 68, 91, 98, 168, 171, 188, 242, 243, 521, X8. Please check on our flyer, above, for details of where busses stop.
To find out more about how to get here please visit Transport for London's Journey Planner.
Accessing Our Services
Disability
Mary Ward Legal Centre is wheelchair accessible via a platform lift and accessible toilet facilities are available. There are 3 disabled parking bays nearby (see flyer for exact locations). We have audio induction loops available for the hearing impaired. Please ask a member of staff if you require one.
Languages other than English
If English is not your first language, and you feel you cannot discuss your problem in English, please ask a friend or family member who can speak English (someone whom you can trust) to contact us on your behalf. In some cases, we may be able to arrange an interpreter for your appointment.
---
© 2017 Mary Ward Centre
Mary Ward Legal Centre
10 Great Turnstile
London
WC1V 7JU

Registered Charity number: 1024148
Company limited by guarantee number: 2786099
VAT number: 56459 11 22

Phone: 020 7831 7079
Fax: 020 7831 4531