Mary Ward Legal Centre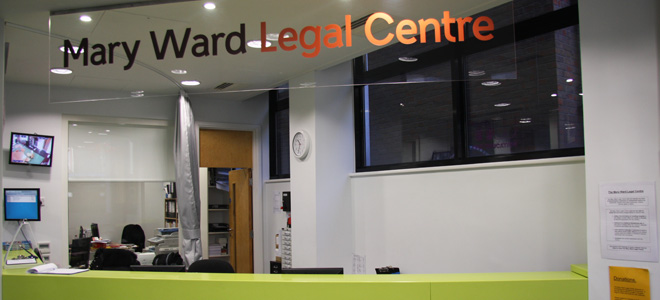 Specialist legal advice services in debt, employment, housing and welfare benefits
Please note we are open until noon 24/12/15 and reopen again 4/1/16.
We will be operating a limited service from 21/12 to the 24/12 which means you may not be seen by an adviser but offered an appointment or call back after 04/01/16.
Welcome to the Mary Ward Legal Centre
The Mary Ward Legal Centre provides free, independent advice to people who live and work in London to help them access their legal rights and entitlements.
The main areas of law we can help with are debt, employment, housing and welfare benefits.
Mary Ward Legal Centre also runs free advice clinics with the support of volunteer lawyers, for people with problems that fall outside of our traditional casework including small claims, tax, consumer and contract law. To find out more on these sessions visit our page on general legal advice.
Our services are targeted at people on low incomes, and most advice services have specific eligibility criteria. To find out if you are eligible please click on the area of law in which you need advice. If we are not able to help you we will try to find alternative ways to help, or refer you to another agency.
To find out about how to access our services, please click on the relevant area of law on the side menu.
You can also follow us on twitter https://twitter.com/ @MaryWardLegal